AM receives Award for Excellence in a Consumer-oriented Company, in the field of "awareness-raising and educational activities"

The Award for Excellence in a Consumer-oriented Company is a system by which METI recognizes companies that have produced outstanding results as an organization attuned to the needs of consumers. In the 2005 Awards for Excellence in Consumer-oriented Companies, HOP received the award in the category "awareness-raising and educational activities."
First award for a Hokkaido company
This year marks the 16th annual presentation of this award, which has been presented to some of Japan's best-known companies. The 2005 award was Housing Operation Project Inc.'s first such award ever.
First award of its kind in the field of
awareness-raising and educational activities
HOP was one of seven companies in 2005 receiving METI's award for excellence as a consumer-oriented company. Three companies received general awards, three others were awarded in the field of quality and safety, and none received awards in the areas of consumer advisory services and the environment. HOP was the only award recipient in the field of awareness-raising and education, and the first anywhere in Japan.
Reasons for award: HOP's actions
HOP's management policy is to propose comprehensive systems, from the life cycle of wood, which starts with planting, to the life cycles of houses and homes. This spirit informs every aspect of HOP's customer relations and contributions to residential culture.
HOP offers an assortment of advisory and awareness-raising activities on modern living solutions, aimed at consumers other than its own customers. In his "house doctor" activities, the president of the company offers advice and solutions on a host of consumer living issues. In a similar vein, HOP offers a "workshop on residential issues," based in Sapporo but also presented in Yokohama and Kyoto. Through these workshops, HOP raises consumer awareness of the home as a cultural phenomenon and the need for environmentally harmonious housing.
HOP is a vigorous supporter of proper forest maintenance. In 2002 HOP began conducting tree-planting exercises with members of local communities. Two years later, HOP founded Moriwotateyou Net Work (the "Let's Build a Forest Network"), an NPO, and helped form a nationwide network of similar NPOs. This network continues today to support the cultivation and maintenance of forests and to raise public awareness on related issues.
HOP's corporate philosophy and basic approach regarding consumer orientation
Consumer-oriented characteristics of the Company's organization and management
Consumer-oriented policies and awareness-raising/education activities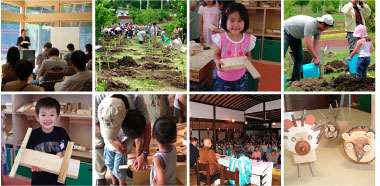 Award ceremony,
Wednesday, March 22, 2006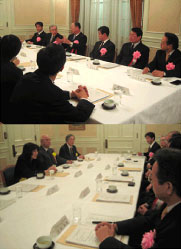 In a nearby waiting room, the award recipients chat pleasantly as they wait for the ceremony to begin. On the right is Kazuhiro Ishide, president and CEO of HOP.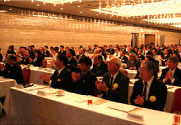 Representatives of Japan's most prominent companies are on hand to witness the ceremony. With over 300 audience members, the venue was filled to capacity.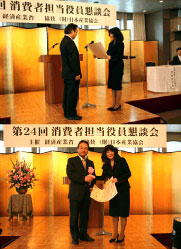 Satsuki Katayama, Diet member and Parliamentary Secretary for Economy, Trade and Industry of Economy, Trade and Industry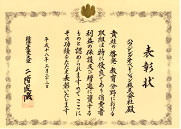 Award certificate
To: Kazuhiro Ishide
President and CEO, Housing Operation Project Inc.
This award is presented to you in honor and recognition of your company's outstanding efforts in the field of awareness-raising and education and contribution to the protection and promotion of consumer interests.
Toshihiro Nikai
Minister of Economy, Trade and Industry
March 22, 2006